Family Holidays To Morocco
Just a three hour flight but a world away in experience, culture and assault to the senses, Morocco is an ideal short-haul family holiday destination.
The bustling city of Marrakech has souks and markets to explore plus it is steeped in history. With beautiful gardens and fantastic views towards the Atlas mountains, a holiday on the outskirts of Marrakech can provide the best of both worlds as luxury resorts are peaceful and serene with the opportunities to visit the City and the foothills of the Atlas mountains.
If you prefer the coast there is plenty on offer from the small authentic resorts such as Essaouira, the well-established beach resort of Agadir or head for the amazing One&Only Magazan Resort just outside Casablanca which offers practically every activity you can think of for children and parents alike on a family holiday.
Perhaps take a twin-centre option combining the two?
With no time difference to GMT it is an ideal destination for small children who are used to a routine. Morocco was only independent of France as recently as 1956 and French is the language predominantly spoken. The main religion in Morocco is Islam and although it embraces international values respect is expected.
Most businesses close on Friday as this is Morroco's holy day and during the holy month of Ramadan shops are usually closed by day (shops in the Souks are often open) and open at night.
Want an amazing family adventure in Morocco? fill out an enquiry form and our family holiday designers will plan the perfect trip for you...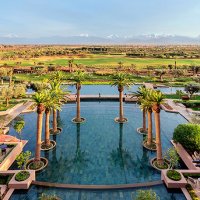 Royal Palm Beachcomber Marrakech, Morocco
The Royal Palm Marrakech is the first Beachcomber property in Morocco. Beachcomber have a fantastic reputation in Mauritius and The Seychelles for amazing family friendly holidays and this hotel is to be the equal.
More Information...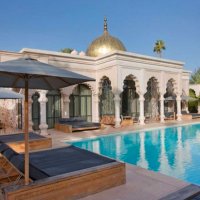 Palais Namaskar, Marrakech
Beautifully situated between the desert and majestic mountains, a luxurious hotel in Marrakesh Palm Grove. Palais Namaskar is the perfect hotel for an unforgettable family getaway.
More information...