Family Holidays To Cyprus
As the third largest island in the Mediterranean Cyprus has plenty to offer for a family holiday: the Troodos Mountains, charming villages, golf and of course its stunning coastline and beaches. A traditional island that has embraced a modern lifestyle.
Paphos is centred around an attractive little harbour whose picturesque open-air fish restaurants line a quayside of bright fishing boats and pleasure craft. We love the location of the Hotels Almyra and Annabelle for a family holiday, right on the promenade of Kato Paphos with lovely views and easy access to shops, cafes, bars and restaurants. Paphos is inextricably linked with Greek mythology, and the legendary birth of Aphrodite on its shores brought fame and worshippers there to follow the cult of the Goddess.
Pissouri has a quiet 2km Blue Flag beach. It is a very attractive and peaceful area with much of its Cypriot character still in evidence and is still a working area of farms and vineyards.
Latchi the nearest town to the 5 star deluxe Anassa Hotel is a charming small fishing village that still retains much of its old charm, it is also has a small harbour with fish tavernas on the water-side - an area for those looking a peaceful luxury family holiday in a countryside location.
As well as the beaches at the hotels there is plenty to explore for families with children of all ages. Governor's Beach is a good choice with shallow clear water, ideal for families with a white rocks area for snorkelling and fishing.
Take a look at some of our fantastic Cyprus hotels below to get your family holiday started...
For a fantastic family holiday in Cyprus, fill out an enquiry form on the left and our family holiday designers will create the perfect holiday for you...
Cyprus Hotels
Atlantica Aphrodite Hills Hotel
Set on a stunning plateau overlooking the waters of the Mediterranean, this luxury resort combines superb leisure facilities with a flexible choice of accommodation.
Almyra
Achieving a balance between parents and their children is not easy but the Almyra can. With a spa and delicious food this stylish hotel sits in beautiful gardens with impressive views.
Annabelle
The Annabelle is a timeless luxury 5 star hotel, perfectly located on the seafront in Kato Paphos with the promenade outside for a stroll to cafe's and bars ideal for families.
Anassa
Elegance, luxury and excellent dining together with professionally run, English speaking childcare and activities, combine to offer a perfect family holiday for every member.
Olympic Lagoon, Paphos
This five star all inclusive hotel is situated on a blue flag beach in Paphos. Enjoy a fabulous family holiday with something for everyone.
The Elysium, Paphos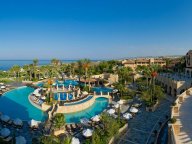 The Elysium is a luxury 5-star deluxe hotel, perfectly located on the coast of Paphos. With 24-hour babysitting unwind as your kids enjoy endless fun and games.
Parklane Resort
The luxurious and picturesque Parklane Resort sets the atmosphere for the tranquil holiday experience that awaits. More information...
Columbia Beach Resort
Settled in the 2km-long Pissouri Bay – a tranquil and idyllic area situated only 20 minutes from Paphos and Limassol – sits the five-star Columbia Beach Resort. More information...
Olympic Lagoon Resport Ayia Napa
The family-focused Olympic Lagoon Resort boasts "a world of leisure". It provides a great variety of family-oriented activities, entertainment and accommodation. More information...