Newsletter Offers
Newsletter Offers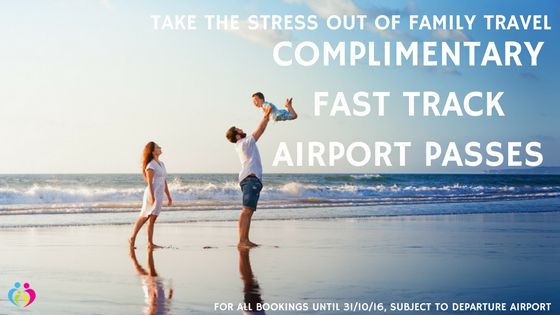 For all family holiday bookings made between 26/09/16 and 31/10/16, just quote 'newsletter' during the initial booking process for complimentary fast track airport passes to take the stress out of travel.
The passes allow you to beat airport queues with access to the fast track lane at security.
Valid airports are: Aberdeen, Birmingham, Belfast, Bournemouth, Bristol, Dublin, East Midlands, Edinburgh, Exeter, Glasgow, Leeds-Bradford, Liverpool John Lennon, London Gatwick, London Heathrow, Luton, Manchester, Newcastle, Southampton, Stansted
Subject to departure date and time. Booking must be inclusive of return flights and accomodation for each family member wanting to redeem this offer.
Only valid for bookings made between 26/09/2016 and 31/10/16. Unfortunately, not valid for existing bookings.
We reserve the right to change and update these terms and conditions if necessary.
For more information, contact our family holiday designers on 01279639600