Family Holidays To Greece
Greece and her islands are such popular family holiday destinations and for good reason: the people are friendly, sandy child-friendly beaches, the simply gorgeous (and warm!) crystal clear blue sea and laid-back family friendly tavernas.
Each Greek island is different and we have hand-picked some perfect spots for a Luxury Family Beach Holiday to Greece depending on your families holiday wishes.
If you prefer a small and friendly family hotel right by a lovely sandy beach then The Skiathos Princess in Skiathos is fabulous and even offers a creche and spa. More active families who enjoy strolling out will love one of our best-selling luxury family hotels on the privately owned Sani Resort in Halkidiki. In an idyllic beach setting kids and their parents will love not only the sports but the extra touches such as the open air cinema. From fine-dining to Greek taverna lunches there are so many child-friendly eateries you can try somewhere different each day!
We have a gem of a hotel on the 'Emerald Island' of Corfu. The Marbella Beach Hotel in Corfu has an excellent kid's club run by UK-based Worldwide Kids and some excellent value family rooms with 2 sleeping areas.
Crete offers some excellent luxury hotels for your family holiday and we have picked 3 of the best. The Domes of Elounda we recommend for families with younger children whilst the Daios Cove has some perfect 1 bedroom suites and the Porto Eloundaimaginative children's activities from the Arsenal Soccer School to dance classes. One of the larger Greek Islands there are some excellent excursions on Crete and it has a longer season, an especially good option for October half term.
For watersport loving and active families, we offer Club-style family holidays from Mark Warner and Club Med too.
Which of these sounds like the perfect summer holiday to Greece? The choice is yours.
We have of course inspected them all and would be delighted to discuss the best options for your family holiday.
For a stunning family holiday in Greece, fill out a form on the left and let our family holiday designers create your dream family holiday...
Greece Hotels
Eagles Palace, Halkidiki
The 5-star Eagles Palace Hotel and Spa in Halkidiki, Greece is an unpretentious and superb family-friendly retreat on the gorgeous Aegean coast.
Danai Beach Resort and Villas, Halkidiki
The Danai Beach Resort and Villas in Greece is a luxury boutique beachfront hotel in the unspoilt Sithonia Peninsula of Halkidiki.
Ikos Oceania, Halkidiki
The family-friendly Ikos Oceania Hotel in Halkidiki Greece is located by a white sandy beach just 1 km from the the traditional town of Nea Moudania.
Ikos Olivia, Halkidiki
The Ikos Olivia Hotel in Halkidiki is a stylish and contemporary resort setting new standards for a family all-inclusive holiday in Greece, Europe.
Porto Sani, Halkidiki
The family-owned Sani Resort is situated in an ecological reserve with pine forests, olive groves, and five miles of safe, white sandy beaches.
Sani Asterias, Halkidiki
This luxury boutique hotel is the flagship property of the four stunning, 5 star Sani hotels situated in a stunning ecological reserve.
Sani Club, Halkidiki
The Sani Resort is a fabulous family owned 5 star resort consisting of four hotels scattered in the vast estate, and a super marina with shops.
Sani Beach, Halkidiki
Sani Beach is the largest of the 4 hotels in the fabulous 5 star Sani Resort and has access to almost all the same fantastic hotel facilities - excellent for families.
Miraggio Spa Resort, Halkidiki
As the name suggests, the resort looks like a mirage placed in the idyllic south-west coast of Kassandra. Relax in a fairy-tales scenery with graceful gardens... More information
Skiathos Princess, Skiathos
The Skiathos Princess has an enviable location on a long sandy beach surrounded by pine–clad hills and gardens with beach access.
Marbella Corfu Hotel, Corfu
The renovated Marbella Corfu Hotel (formerly Marbella Beach Hotel) is a family-friendly hotel in Corfu and perfect for a relaxing family holiday.
Lux Me Grecotel Daphnila Bay Dassia, Corfu
Enjoy the beachfront carefree lifestyle with "Luxe All-Inclusive Living". Backed by a lush green hillside, with direct beach access and plenty of activities for all of the family to enjoy.
Ikos Dassia resort, Corfu
On the northwest coast of Greece modern Mediterranean style meets Greek hospitality. The resort greets its' guests with splendid views and turquoise waters. More information
Domes of Elounda, Autograph Collection
This all-suite boutique hotel (80 suites) has stunning views over the Gulf of Elounda and the famed little islet of Spinalonga.
Daios Cove, Crete
In a private and secluded cove - Daios Cove - this 5 star hotel is built of local stone and blends harmoniously into the hillside.
Porto Elounda Golf and Spa Resort, Crete
On a pristine stretch of beach overlooking the Bay of Mirabello the location of the Porto Elounda is stunning. A lovely hotel, fantastic for families.
Radisson Blu Beach Resort, Crete
This resort has been designed with families in mind to create lifetime memories while relaxing in true luxury. Surrounded by idyllic beaches and offering multiple accommodation options and premium facilities.
Avra Imperial Resort, Crete
Located in the Kolymbari Bay, Avra Imperial is a luxurious 5-star Hotel, embodying the image of modern luxury and renowned as a landmark in the area.
Helona Hotel, Kos
The Helona Hotel offers a luxury family holiday for all whilst being able to dip-in to the fantastic Mark Warner facilities at the Lakitira Resort next door.
Lakitira Beach Resort, Kos
Basking on the southern coast of Kos in Greece, Lakitira Beach Resort has four acres of lush gardens and golden sandy beaches.
Ikos Aria, Kos
An elegant collection of suites providing the perfect base for a luxurious relaxing family holiday. Discover beautiful scenery from private balconies, a choice of restaurants and pools.
Lemnos Beach Resort, Lemnos
The family-friendly 4 star Mark Warner Lemnos Beach Resort reflects both the gentle pace of life here, as well as its unspoilt surroundings.
Levante Beach Resort, Rhodes
The Levante Beach is a 5* Mark Warner Resort located on one of the longest sandy beaches on the eastern coast of Rhodes.
Sheraton Rhodes Resort, Rhodes
Amongst the most luxurious on the island and just steps away from crystal clear sea, this hotel enjoys an enviable spot in the beautiful Iallysos Bay.
Lindian Village, Rhodes
This wonderful resort in Lardos, Rhodes, offers amazing pools, an extensive selection of restaurants and a pampering spa. It is situated near the beach... More information
Electra Palace, Rhodes
With a stunning beachfront setting, Electra Palace offers it's guests a fantastic family-friendly base. From energetic funfilled activities to an award-winning spa.
Amada Colossos, Rhodes
This fantastic resort boasts a stunning beachfront setting. Offering spacious rooms, a fantastic waterpark for all ages and specially designed family zones for quality time.
Westin Resort Costa Navarino, Messinia
A stunning location near a beautiful sandy beach and crystal waters. Costa Navarino offers a great range of actvities ensuring guests of all ages are catered for.
Paleros Beach Resort, Paleros
Book early for this brand-new resort opening May 2019. Backed by olive-grove-clad mountains, with direct beach access and plenty of activities for all of the family to enjoy.
Grecotel Lux Me White Palace, Crete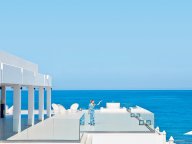 This modern and luxurious 5* resort is ideal for spending time as a family. Based on the enchanting Grecian island of Crete with spectacular panoramic sea views, the Grecotel White Palace will leave and your family feeling relaxed and refreshed.