Family Holiday Guide To Kos, Greece
With over 280km of coastline Kos is excellent for its choice of beaches, perfect for making sandcastles on the beach. Inland you can find picturesque whitewashed villages and fields filled with wild flowers. For sightseeing there is the impressive Sanctuary of Asclepius, the Venetian Castle in Kos Town and the Fortress in Antimachia.
Popular watersports on the island include windsurfing, diving, para gliding, parascending, ski boats, water scooters, water skiing and canoeing. For some of the best beaches head to the pebbled cove of Thermes and experience the hot water or Tigaki for sandy beaches and crystal clear shallow water perfect for swimming.
Visitors can also take a boat trip out to Bodrum in Turkey for the day. For an exciting day out take a boat to Nissyros where you can treat the kids to the amazing experience of seeing a live volcano! Walk on the crater floor and feel the force of boiling water rushing under the ground below your feet. Two minutes drive from the airport is the lush pine forests of Plaka. The forest is surrounded by a gorge stretching down to the sea and is home to hundreds of tortoises and peacocks.
Shaded picnic areas are placed throughout the forest and is an ideal place to spend a lazy summer afternoon with the family.
For a stunning family holiday in Kos, fill out a form on the left and let our family holiday designers create your dream family holiday...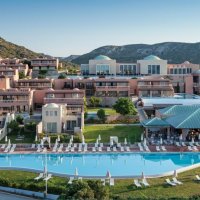 Helona Hotel
The Helona Hotel offers a luxury family holiday whilst being able to dip-in to the fantastic Mark Warner facilities and childcare from 4 months to teenagers available at Lakitira Resort next door.
More Information...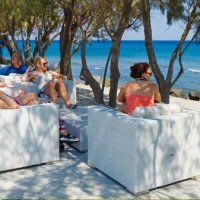 Lakitira Beach Resort
Basking on the southern coast of Kos in Greece, Mark Warner's 4 star Lakitira Beach Resort extends over four acres of lush flower filled gardens, flanked on two sides by golden sandy beaches.
More Information...