Family Holiday Guide to Lemnos, Greece
Lemnos, located in the North Eastern Aegean between Lesvos and Thassos is a quieter Greek island being far away from Athens and therefore relatively undeveloped by the tourism that has influenced other islands. You will be surprised by the deserted beaches, the pretty mountain villages and the interesting archaeological sites.
We are delighted to recommend Mark Warner's 4 Star Lemnos Beach Resort, a small and friendly hotel with lots of activities for adults and children to enjoy on their family holidays. The beach, just one of a huge number on the coast of Lemnos is sandy, dafe and boasts crystal clear waters.
Visit the Medieval Castle of Myrina, Ancient Poliochni, Ancient Kavirio and the legandary cave of Philoctetes.
If you are interested in a family holiday to Lemnos, fill in the enquiry form on the left and a member of our expert team with be in touch shortly...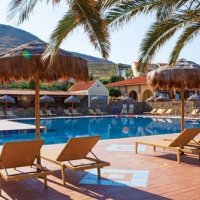 Lemnos Beach Resort
The island of Lemnos is delightful. Relatively undiscovered, it has retained its quiet rural charm and is very family-friendly.