Family Holidays Guide to Messinia, Greece
Located in the southwestern area of the Peloponnese Peninsula, unlike much of Greece Messinia has numerous springs, rivers and many small streams so for most of the year Messinia remains a green paradise.
Messinia's best known location is Kalamata situated in the heart of the crystal-blue Messinian Bay. The best starting point for sight-seeing is the cities historical centre. In the historical centre is the church of Saint Apostles where the Greek Revolution against the long Turkish occupation was declared on March 25th 1821. There are also other interesting locations in Kalamata such as Mpenakeio Archeological Museum, Municipal Library Historical and Folkloric Museum of Kalamata.
With 140km of coastline Messinia boasts some heavenly sandy beaches great for families. In addition to the beautiful beaches Messinia also has a number of satellite Islands such as roti, Sfaktiria, Sapienza, Schiza, and Venetiko. The Valley of Neda is one of Messinias famous natural spots full of unspoilt scenery that is rich in wildlife and great for a family visit.
For a stunning family holiday in Messinia, fill out a form on the left and let our family holiday experts create your dream family holiday...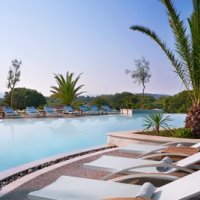 Westin Resort Costa Navarino
A stunning location near a beautiful sandy beach and crystal waters. Costa Navarino offers a great range of actvities ensuring guests of all ages are catered for.
More Information...