Family Holiday Guide To Rhodes, Greece
The Greek Island of Rhodes, tucked up along the Turkish coast, is the largest of the Dodecanese Islands which are scenic, colourful and with excellent beaches is perfect for a family summer holiday.
Rumoured to enjoy the highest sunshine record in Greece you really can relax and enjoy the weather. Rhodes offers families a perfect partnership of sun, sea, sand, age-old sites, find dining and modern amenities. As with any of the larger and more commercialised Greek Islands there are areas to be avoided but it is also not difficult to find an unspoilt corner.
Rhodes Town is a real attraction from the beach and not to be missed. The old town of Rhodes, the capital city, is one of the finest walled cities in Europe. Kids will love to explore the Palace of the Grand Masters, a medieval Citadel built by the Knights of St John in 1300 as well as the maze of tiny cobbled streets. In fact this splendid medieval city, which together with its fortifications has attained status as an UNESCO World Heritage Site.
The new town creates a real contrast and you can find designer shops, back street ouzeries and a large harbour with some interesting boat trips available.
Both the hotels we have chosen, the club-style Levante Beach Resort with activities for all the family included and the Sheraton Rhodes Resort are just a short journey to the Capital.
For a stunning family holiday in Rhodes, fill out a form on the left and let our family holiday designers create your dream family holiday...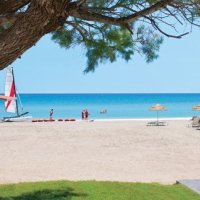 Levante Beach Resort
The Levante Beach is a 5* Mark Warner Resort located on one of the longest sandy beaches on the eastern coast of Rhodes.
More Information...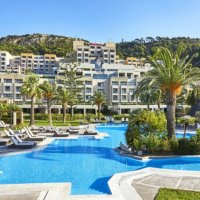 Sheraton Rhodes Resort
Amongst the most luxurious on the island and just steps away from crystal clear sea, this hotel enjoys an enviable spot.
More Information...