Family Holiday Guide To Skiathos
The stunning coastline of Skiathos is made up of rocky headlands covered in pine trees and olive groves, punctuated by one sandy beach after another and of course buzzing Skiathos Town is never far away for a change.
Busy with the hustle and bustle of the locals, their fishing boats and the arrival of ferries during the day, Skiathos Town at night is transformed into an array of waterfront restaurants and cafes welcoming locals and visitors alike.
A small, pretty island, just 13km long, you can still experience real feel of Greek island life and The Skiathos Princess Hotel is perfect for a relaxing family beach holiday.
For a stunning family holiday in Skiathos, fill out a form on the left and let our family holiday designers create your dream family holiday...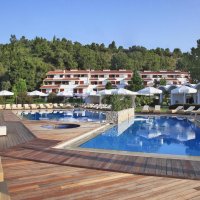 Skiathos Princess
The Skiathos Princess has an enviable location on a long sandy beach surrounded by pine–clad hills and spacious gardens, offering direct access to a beautiful sandy beach.
More Information...