Family Holiday Guide To Sicily
A family holidays in Sicily offers families a fabulous mix: gorgeous and reliably sunny climate, a stunning coastline, the sparkling Mediterranean, fantastic food for all the family as well as the exciting left-overs from the Phoenicians, Greeks, Romans and Normans who have travelled there before you!
Enjoy a mixture of hustle and bustle in the towns to the idyllic rural scenes of olive groves, fields of orange and lemon trees, shepherds tending their sheep and quaint narrow streets. The people are friendly and children are welome everywhere.

Sicily offers more than a fly and flopfamily beach holiday - that is if, once there, you can drag yourself out - the refreshingly relaxed pace of life quickly becomes infectious!
If you are interested in a family holiday to Sicily, fill out an enquiry form on the left and our family holiday designers will plan the perfect holiday for you...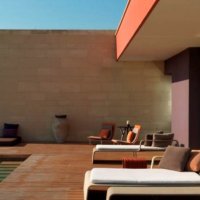 Verdura Resort
The Rocco Forte's Verdura Resort is a stylish Golf and Spa Resort set on the South coast of Sicily. A truly individual Rocco Forte property on a vast estate with first class facilities for parents and their children to enjoy a luxury family holiday.
More Information...