Family Holiday Guide To Fuerteventura
A family holiday paradise with more than 150 beaches of white sand and turquoise waters, the whole Island has been declared a Biosphere Reserve.
Lying just under 100 kilometres from the north coast of Africa, the centre of this dramatic island has an almost mythical volcanic landscape whilst towards the coast the famous giant sand dunes stretch for many kilometres.

Watersports are very popular in Fuerteventura, with constant Saharan winds providing perfect conditions for windsurfing and kiteboarding. For excellent snorkelling, you can take a boat trip to the uninhabited Isla de Lobos. Bike trials and hikes are alsogood.
For a fantastic family holiday in Fuerteventura, fill out an enquiry form on the left and our family holiday designers will create the perfect holiday for you...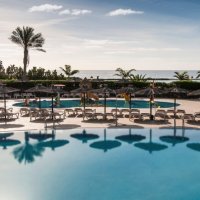 Sheraton Fuerteventura
Modern in style with a Canarian design and traditional Spanish influences, families can enjoy the fine beach or chill out by the pools which are heated.
More Information...