Honeymoon Ideas with Kids
With kids coming along on your honeymoon there is time for romance as well as family time, but there are a few extra things that you need to think about when planning your Familymoon. It is really important to combine both you children's needs with yours as if they are not happy and relaxed then for sure one of you or both will start to stress and the romantic and carefree atmosphere of your special holiday together will quickly vanish...
Decide if your kids would like a creche or kid's club, perhaps they are better with a private nanny or joining in with a football camp for a couple of hours a day. How important is a sandy beach or heated pool? Would you prefer a kids club where you can stay with them or one where parents are not allowed to stay for long? Are you looking for holiday activities or experiences on your honeymoon that you and the kids can enjoy together - it is a familymoon after all! Of course you must have some time as a couple too.
Check out some of our sugggestions for luxury honeymoons with kids too - we have lots more depending on the priorities for your family so please don't hesitate to contact us.
You might also like to see Honeymoon Ideas with a Baby.
For a fantastic family holiday, fill out an enquiry form on the left and our family holiday designers will help create the perfect holiday for you...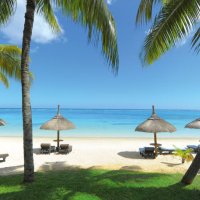 Trou Aux Biches, Mauritius
Location on the North west Coast, renowned for the best weather plus total refurb not long ago makes this our top choice for a honeymoon in Mauritius. The powdery white sands and crystal clear blue seas, with the best sunsets on the island are magnificent and while you chill in this heavenly settingthe kids will love the state of the art kids clubs from 3 years to teens with nannies for younger children or you can stay with them.
There is plenty going on with watersports, tennis, Spa offering special honeymoon treatments and you are just 10 minutes away from shops, cafes and bars of Grand Baie.
The rooms are all huge but we especially love the Family Suites with 2 large bedrooms, those on the ground floor have fabulous, private outdoor showers. A mix of natural woods, cream and tropical colours organised into 6 pavilions each in six horseshoe-style crescents around a pool, with no risk of overcrowding. If you can stretch the budget then the villas are a wow!
Mauritius is a top honeymoon destination and there is no reason not to take the kids, you will all love it!
Other Hotels in Mauritius, go>>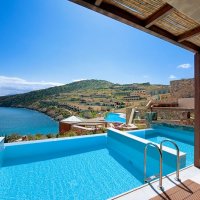 Daios Cove, Crete
Luxury Resort Daios Cove is family-friendly heaven with a choice of restaurants, activities for the kids from kids club to watersports.
We LOVE the privacy and space in the luxury villas: 1,2 or 3 bedrooms each with private pools (can be fenced) and a dedicated concierge service and a reserved section on the beach.
We have inspected all the Hotels we recommend and can offer our own independent view - just get in contact to duscuss your perfect family honeymoon.
Other Hotels in Greece, go>>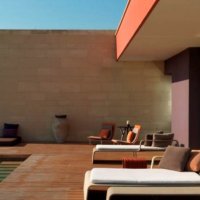 Verdura Resort, Sicily
This 5 star resort is perfect for kids including teens in July and August with heaps of activities as well as the children's club: a Juventus footy academy (5-16 years), golf academy (5 years up), tennis, cooking and water sports. With bikes scattered around you can also enjoy exploring as a family.
The spa is great and offers double treatment rooms, there are some romantic dining options and walks around the vast estate and of course all the sports facilties are for adults or can be enjoyed as a family too.
This hotel is a gem and used to creating special moments. I particularly loved the grand suites with two luxuriously appointed rooms, a handy kitchenette, an unusual bath tub with views of a lemon tree. There is so much space too with a private enclosed inner courtyard with a comfy daybed whilst the large terrace with sunbeds and even a hammock opens on to large garden area leading to the beach. The sunset is magnificent! Don't worry if you want a more modest room, the decor is the same and all enjoy the same view and sunsets!
If you like to get out and about then Sicily is rich in culture - both people and ruins. There is a wine-tasting lunch at a local family run vineyard, 'mama' style dining in a local restaurant and much more.
Other Hotels in Italy, go>>