Family Holidays To Spain
Southern Spain
Just over 2 hours from London, South Spain is perfect for a family short break or a longer holiday.
The area between Malaga and Gibraltar is perfect for a family holiday to Spain with good beaches, long promenades and excellent cultural trips. It also boasts over 300 sunny days each year!
Just 2 hours from London you can be people watching in Puerto Banus, sampling delicious tapas in a bar, or a coffee perhaps in the pretty streets of Old Marbella.
As well as the lovely child-friendly hotels there is action for all the family from golf, horse shows and sherry tasting in Jerez to Granada's Alhambra Palace, Seville or Ronda's bullring.
Family holidays in the Canary Islands: perfect for a winter sun holiday without a long flight and perfect for a summer beach holiday with great weather and offering excellent value compared to much to the Med.
Head to the Canary Islands to enjoy some pampering at the lovely hotels, read your book on the sandy beaches and indulge in some well-earned family time, the Canary Islands all share an abundance of sun, sand and sea!
Many areas are unspoilt and if you want to get out and about there is also so much more then the beach and luxury hotel on offer: family water parks, climbing volcanoes, whale watching, boat trips and many different sports.
The Canary Islands are formed by seven main islands: Tenerife, Gran Canaria, Fuerteventura, Lanzarote, La Palma, La Gomera, El Hierro and we have selected the best family-friendly resorts and hotels for a luxury family holiday on the bigger islands.
Mallorca
Mallorca offers a huge range of hotels but we have picked only family-friendly hotels perfect for a luxury family holiday.
It is an amazingly diverse island and it is not difficult to find a gorgeous spot with crystal clear waters and all within easy reach of Palma airport.
On the stunning west coast, Port de Soller itself is a super little village situated in one of Mallorca's most beautiful horseshoe harbours. Surrounded by the Tramuntana mountains, you have the best of both worlds - magnificent mountain scenery and a sea view and an ideal location for parents and their children for a luxury yet relaxed family holiday. We recommend the Jumeirah Port Soller for a sophisticated family holiday.
On the North Coast of Mallorca in a quiet and unspoilt area, we have the Eurotel Punta Rotja, a very Spanish family-friendly hotel just above the crystal clear sea with easy access to the bustling resorts of Cala Millor or the wild beaches to the North.
Blau Privilege Porto Petro Beach Resort & Spa located on the East Coast is a relaxed, luxury family playground with sandy coves and superb facilities, perfect for families with children from babies to teenagers.
For a fantastic family holiday in Spain, fill out an enquiry form and our family holiday designers will create the perfect holiday for you.
Spain Hotels
Seaside Los Jameos Playa, Lanzarote
Just 15 minutes from the airport, the Los Jameos Playa is a super four star hotel that lends itself to a relaxing or active family holiday. There are great facilities for children and adults will love it too.
Princesa Yaiza, Lanzarote
When you think of all the things that make life easy for a family holiday Princesa Yaiza ticks almost all the boxes: everything they offer is fantastic, a hotel definitely worth considering.
Sheraton Fuerteventura, Fuerteventura
Modern in style with a Canarian design and traditional Spanish influences, families can enjoy the fine beach or chill out by the pools which are heated.
Roca Nivaria Gran Hotel, Tenerife
A great hotel in the Tenerife offering a quality children's club from 10 months combined with a great range of sports facilities for older children.
Abama Golf and Spa Resort, Tenerife
The Abama Hotel in Tenerife is perfect for a luxury family holiday with children of all ages. The Abama offers luxurious and spacious rooms and suites.
Gran Hotel Bahia del Duque, Tenerife
On the southern shores of Tenerife, the child-friendly Gran Hotel Bahia del Duque overlooks the beautiful beach of Playa del Duque. one of the best hotels on the island.
Sheraton La Caleta, Tenerife
This is a superb family hotel on the edge of Costa Adeje with the buggy friendly promenade to take you to the beach and restaurants.
Jumeirah Port Soller Hotel, Mallorca
Luxury boutique hotels can be family-friendly and the Jumeirah Port Soller Hotel is a real gem. Perfect for families looking for something luxurious.
Eurotel Punta Rotja Hotel, Mallorca
The Eurotel Punta Rotja in Mallorca is a well established family-friendly 4 star hotel, located in the exclusive residential area of Costa de los Pinos, a stunning location.
Blau Privilege PortoPetro Beach Resort & Spa
Blau Privilege PortoPetro Beach Resort & Spa occupies an ideal position on Majorca's famous coastline. An easy stroll from the pretty harbour village of Porto Petro.
Viva Zafiro Alcudia Hotel, Mallorca
Located in the centre of Puerto de Alcudia and only 300 metres from the gently sloping sandy beach, the Viva Zafiro Alcudia Hotel is elegantly decorated.
Gran Hotel Elba Estepona Costa del Sol
A well established 5 star hotel in a beachfront location close to the delightful town of Estepona. Stunning decoratin, families are made very welcome.
Las Lomas Village and Spa, La Manga
Las Lomas Village and Spa at La Manga Club Resort offers high quality 4 star two and three bedroom apartments and one, two or three bedroom townhouses.
Principe Felipe Hotel, La Manga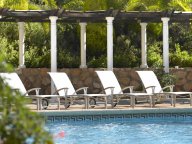 La Manga Hotel, the Hotel Principe Felipe is without doubt the best place to stay in La Manga Club. Located right at the heart of the whole La Manga Club Resort.
Hard Rock Hotel, Tenerife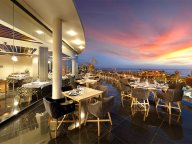 Hard Rock Hotel Tenerife is an entirely reconditioned hotel located off the north-western coast of Africa in the Atlantic Ocean, on the volcanic island of Tenerife. More information...